Prince's Landscape & Construction
ASSIGNMENT
Prince's Landscape & Construction is one of the oldest nurseries in Singapore, with more than 50 years of experience in the landscaping business.
Passionate about beautifying places with greenery, Prince's offers plant rental services for offices where they provide plants with built-in self-monitoring systems. They even have maintenance teams to go down to the offices to perform regular checks on the plants.
Prince's wanted to leverage digital advertising to increase awareness of their office plant rental services and enlisted TLBB's help.
---
STRATEGY
We worked with Prince to identify key demographics (e.g. business owners and human resource personnel) to develop a social media campaign using Facebook Canvas and Carousel ads targeting these key groups.
The Canvas ads contained all the essential information a customer would need for decision-making, such as the prices of the different packages.
EXECUTION
The designs for the ads were kept simple, with the plants as the main feature of every ad. We also included short, punchy copy that highlighted the perks of Prince's service, specifically how plants have the ability to refresh and add colour to an otherwise dull office space.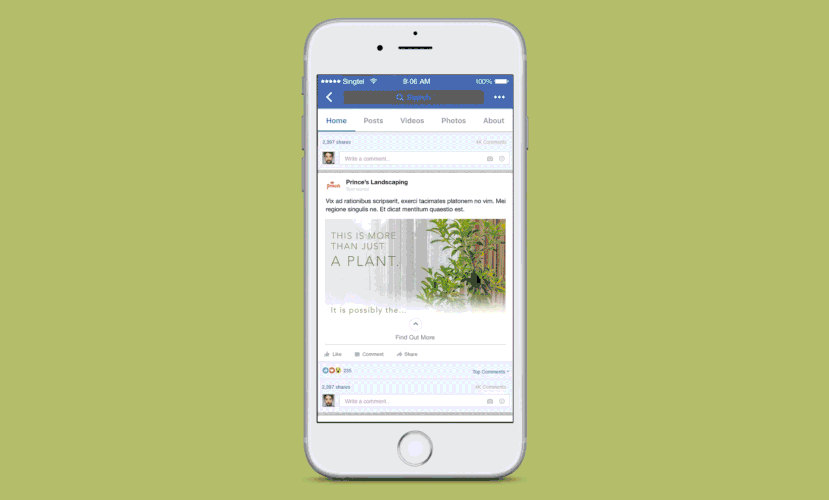 In order to show how hassle-free it was to use Prince's plant rental services in an office space, we did a hyperlapse video of an office with employees working in the foreground while Prince's staff go about their maintenance work on the plants in the background. You barely notice them – that is how undisruptive and convenient their services are.
RESULTS
The Facebook ad campaign ran for 5 days and was successful in generating over 2,000 impressions and over 1,500 clicks.