Diet Coke recently launched a campaign to start conversations about societal labels by removing their own. The '[unlabelled]' campaign aims to encourage people to look past labels and to recognise the individuality in each person.
The campaign got a soft launch in June where unlabelled Diet Coke cans were distributed at events it sponsored. There are plans to expand this to retail outlets. Diet Coke has also turned its Instagram and Facebook accounts into safe spaces where people can share their own stories.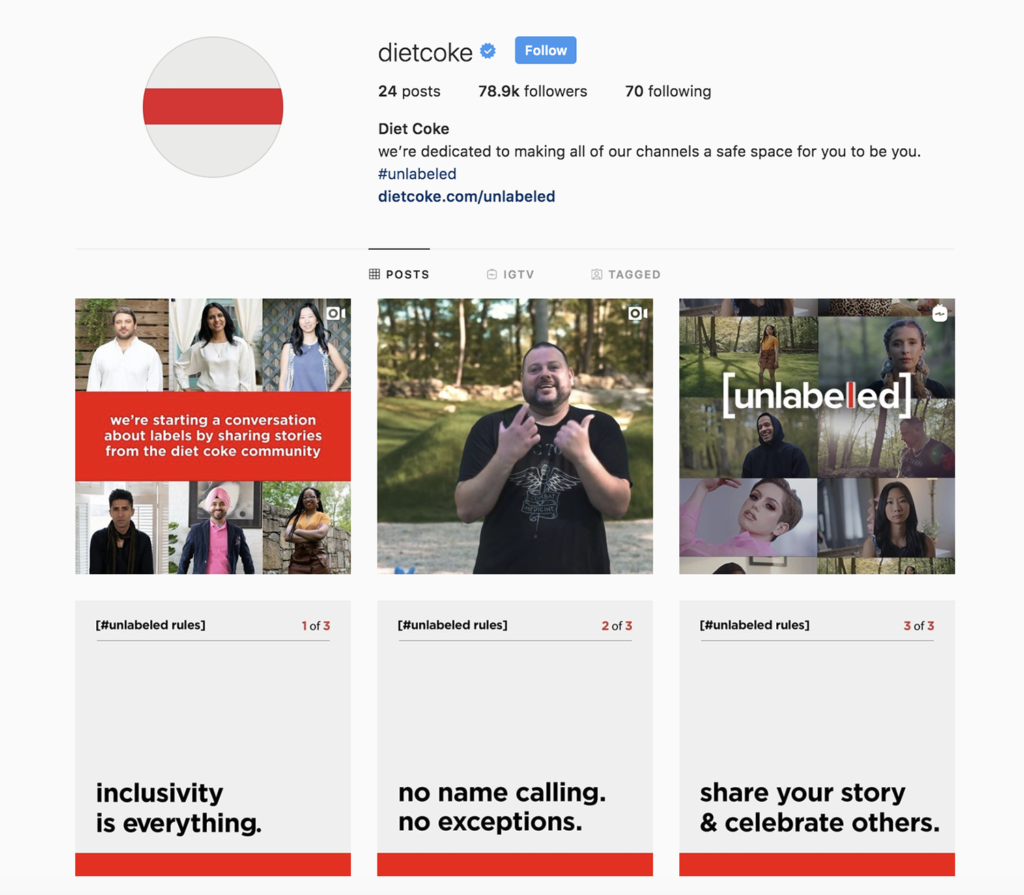 Via Diet Coke
It wasn't too long ago when brands taking a stand on sensitive topics was unthinkable. Fearing that doing so would be a turn-off to potential customers, businesses have developed a knee-jerk reaction to avoid talking about these issues. So why are we starting to see brands like The Coca-Cola Company publicly taking a stance on controversial and sensitive issues, even going as far as to initiate it?
Here's the answer in a statement from Keri Kopp, group director of Diet Coke, on the '[unlabelled]' campaign:
"In today's culture, people believe in a world where everyone can be their true, best selves – and Diet Coke wants to celebrate that. We've been our fans' wingman since the '80s and we continue to listen to what's important to them and honour who they are."
Diet Coke recognises the change in public rhetoric and is aligning its brand with the values of its consumers. Millennials prefer to do business with corporations and brands with pro-social messages, sustainable manufacturing methods and ethical business standards. In 2015, Nielson's Global Corporate Sustainability Report showed that 66% of global consumers are willing to spend more on a product if it comes from a sustainable brand. Another study found that more than 90% of Millennials would switch brands to one associated with a cause.
In the age of "woke-ness", where "woke" means to be aware of societal issues, brands are no longer penalised for speaking up on them. In fact, the opposite is true – brands could get flak if they stay silent on an issue that the public perceives to be in their influence. Think oil companies and climate change.
So how should brands go about being more socially responsible and communicating it?
1. Choose who you sell to
Patagonia, an outdoor brand, recently changed its policies for corporate sales clients. It will only take on new corporate clients that have a charity element or are committed to supporting a cause, namely B-Corp certified corporations. Current customers in their corporate sales program won't be affected.
Via HBO
This move will strike a significant blow in revenue considering the fact that many of Patagonia's corporate clients come from tech and Wall Street. However, it is a move that makes sense branding-wise. The brand has become too closely associated with Wall Street and Silicon Valley, to the point where its vests are being viewed as "Wallstreet uniforms". By carefully selecting which companies they sell to, Patagonia is practising what it preaches and cultivating its image as "The Activist Company".
2. Collaborate wisely
Colin Kaepernick made headlines when he refused to stand during the American national anthem at the NFL to protest police brutality. It was controversial; some Americans supported him while others, including President Donald Trump, criticised him for disrespecting his country.
Nike then made a bold move. They picked Kaepernick to front their commemorative "Just Do It" campaign.
By having Kaepernick front the campaign, Nike was aligning itself with a stance. It was a risky move and the backlash came. People uploaded clips of themselves burning their Nike products on social media with the hashtags #BurnYourNikes and #NikeBoycott.
First the @NFL forces me to choose between my favorite sport and my country. I chose country. Then @Nike forces me to choose between my favorite shoes and my country. Since when did the American Flag and the National Anthem become offensive? pic.twitter.com/4CVQdTHUH4

— Sean Clancy (@sclancy79) September 3, 2018
As with any controversial act, you win some and you lose some. In this case, Nike won more than it lost. Its stocks rose since it announced that Kaepernick would feature in the campaign. This added nearly $6 billion to the company's market value. People were buying Nike shoes in support of the ad.
Bought mine. Kneel for social injustice. Get it right America pic.twitter.com/2yWKLgdYVP

— 1Woman1BlueVote (@FLORIDABLUEVOTE) September 4, 2018
Immediately bought some new @Nike. pic.twitter.com/cJ2Pcyq3XE

— Arlan 👊🏾 (@ArlanWasHere) September 3, 2018
Yo this new Nike commercial with Kaepernick is amazing, I'm rocking Nike for life bro🔥

— Sam💸 (@samrod226) September 5, 2018
Nike's move also struck a core in young Americans. According to a poll, 44% of those aged 18 to 34 supported the brand's decision to have Kaepernick front its campaign while 32% opposed it. The poll also showed that a majority of African-Americans and college-educated Americans supported the ad.
Consumers in support of Kaepernick and Nike were buying the brand. Those who weren't in support were also, ironically, buying the brand just so they could destroy them. Either way, Nike's move paid off.
3. Raise awareness through campaigns
Dove is a brand known for being an advocate of natural beauty thanks to its numerous campaigns centred on the topic. The Dove Self-Esteem Project is one example. Aimed at cultivating self-confidence and helping girls overcome body image issues, the Self-Esteem Project provides free online resources for parents, educators and youth leaders. This campaign follows other multiple great campaigns by Dove that seek to rewrite conventional beauty standards.
These campaigns are not tactical in generating sales but they have been extremely effective in building Dove's brand image and positioning the brand as a champion of natural beauty.
4. Encourage customers to support a cause
Kiehl's 'Recycle & Be Rewarded' programme encourages customers to recycle their empty Kiehl's bottles by rewarding them with stamps for every bottle they return its store. Customers can also collect stamps by bringing their own reusable tote bags. Customers can use these stamps to redeem travel-sized products and even a tote bag. The programme is a hit – Kiehl's collects about 2,000 bottles each month in Singapore.
Businesses could also offer discounts to reward eco-friendly behaviour. Starbucks customers in Singapore get to enjoy a S$0.50 discount whenever they bring their own mug or tumbler. Starbucks also gives a free drink with every purchase of one of their tumblers.
Implementing consumer-targeted initiatives is a good way to raise awareness for the cause you support and the fact that you support it.
—
Being socially-conscious isn't just a new wave that brands should ride for the sake of it. It is important to practise what you preach; this means your policies and marketing tactics need to align with what you say you are. When it comes to socially-responsible marketing, having a clear understanding of your company values is important because those values will help you determine what causes you are most suited to commit to. Lastly, don't see it as "marketing" but rather a way to give back to the community. It can't go wrong if it comes from a genuine desire to help.
Get weekly marketing tips!
Join our mailing list to receive marketing tips from our team.
Success! Thank you for subscribing.